I don't know about you, but I'm loving Korean food these days. There are a number of restaurants that have popped up in our area over the last few years, and they are among my favorites. But, these days with two little ones, it's a bit more challenging to get out, so I've come up with my own versions of my favorite Korean dishes to satisfy that craving. Mind you, I am not Korean, so this is my nutrient-rich take on a Korean classic.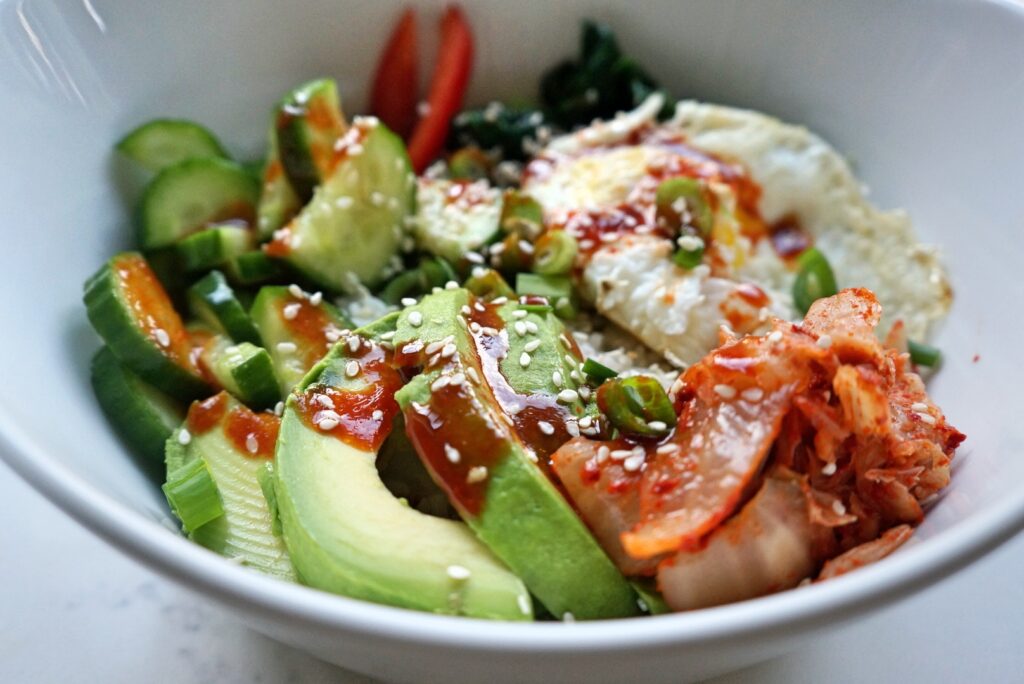 In the mix:
steamed jasmine rice (I do this in my instant pot – 1:1 ratio of rice to water @ 12 minutes, high pressure, natural release for 10 minutes, then manual release. I add 1 tsp. salt before cooking.)
1 bag/1 bunch spinach
avocado oil
8 ounces sliced crimini mushrooms
2 cloves garlic, minced
4 eggs
sriracha sauce
2 tbsp. gochujang (make sure you get one that's gluten-free)
1 tbsp. sesame oil
1 tbsp. coconut aminos
1/4 c. + 1 tsp. unseasoned rice vinegar
2 tsp. honey
1 red bell pepper, thinly sliced
1 English cucumber, thinly sliced in rounds or half moon shapes
kimchi
1 avocado, sliced
Steam rice in rice cooker or instant pot. While the rice is steaming, combine one tsp. honey and 1/4 c. rice vinegar until honey is dissolved. Add sliced cucumber and bell pepper to mixture and set aside. In another small bowl (or jar) you will make your sauce by stirring together gochujang, sesame oil, coconut aminos, and 1 tsp. rice vinegar. Set aside. Add 1 tbsp. avocado oil to hot skillet and add mushrooms and lightly season with salt. Once they start to cook down, add minced garlic, stirring until fragrant. Add spinach until wilted, remove from the heat, and scoop this mixture into a separate bowl. Add a touch more avocado oil to the skillet, and crack four eggs, cooking over-easy. It's time to plate! Add rice to each bowl, and top with the spinach/mushroom mixture, quick-pickled cucumbers and bell peppers, kimchi, and egg(s). Drizzle with sauce, and sprinkle on sesame seeds. I like to have sriracha sauce, as well as some of the other sauces nearby for at-the-table seasoning.