This week I had two goals for this soup:
Add as many veggies as possible.
Use up any veggies I had in my fridge, as I had a huge shipment I had forgotten about from Imperfect Produce and needed to use it up!
This "kitchen sink" soup turned out to be delicious. What I love most about making soup like this is that it doesn't take any special ingredients, and you can easily swap in different veggies based on what you have on hand. And this makes enough so that you can use it for leftovers throughout the week or freeze for a day you just don't have time (or desire) to cook.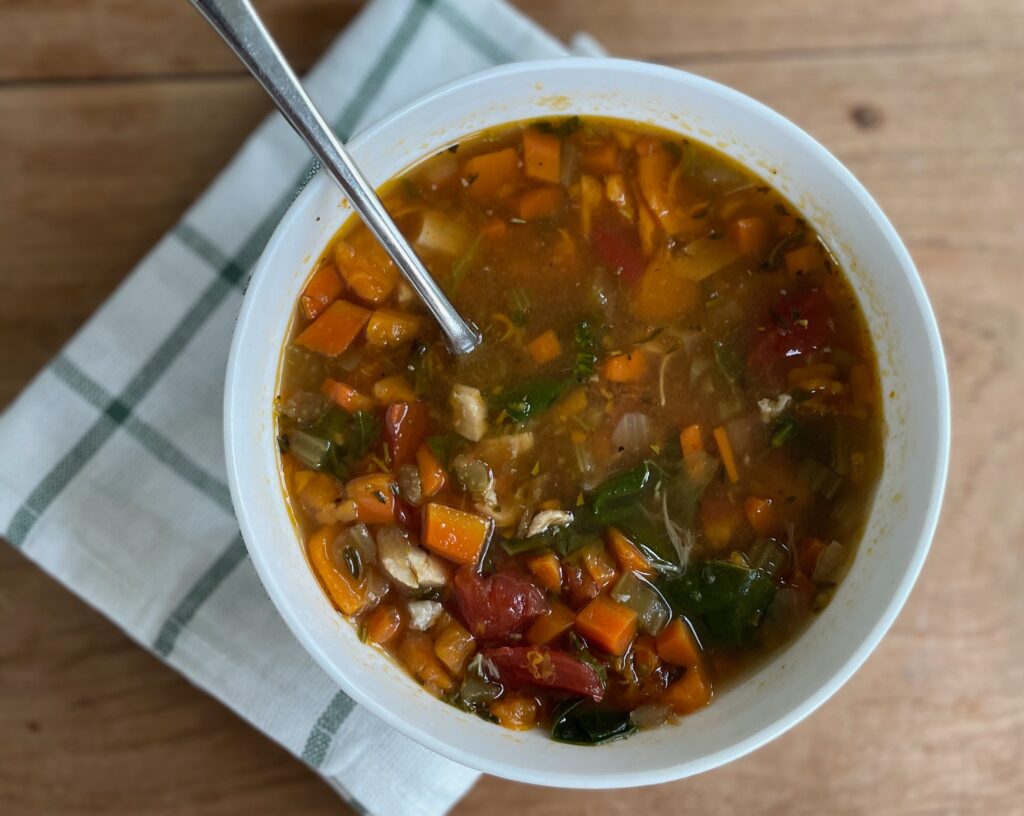 Very Veggie Chicken Soup
Servings: 12
Time: 30 minutes
Ingredients:
12 cups chicken bone broth
1/2 a chicken, diced (or 4 cups)
6 stalks of celery, diced
6 medium carrots, diced
2 onions, diced
1 can fire-roasted diced tomatoes
2 large sweet potatoes, peeled and diced
4 cups spinach, roughly chopped
1/2 cup parsley, chopped
1 tablespoon fresh thyme, finely chopped
1 tablespoon fresh rosemary, finely chopped
Sauté the onion, carrot, and celery with a few cranks of sea salt until softened and just starting to brown. Add the rosemary and thyme and cook 1 additional minute until fragrant.
Add chicken bone broth, sautéed onion/carrot/celery mixture, and diced sweet potato to a pressure cooker and set to high for 10 minutes. Quick release and add the chicken, diced tomatoes, spinach and parsley. Simmer (lid off) on medium heat for 5 minutes, or until greens are wilted and chicken is warmed through. Salt and pepper to taste and serve.