If you want an easy staple, always-a-hit fall/winter dish, this beef is IT. With the sweet and savory combo, the flavor profile is really tough to beat. This time I paired it with my Fall Kale Salad and a sweet potato mash, similar to my Kabocha Squash Mash. The crunch and bright acidity of the salad is a nice complement to the sweet, tender beef, and the mash is the perfect vehicle to soak up all that extra balsamic reduction yumminess.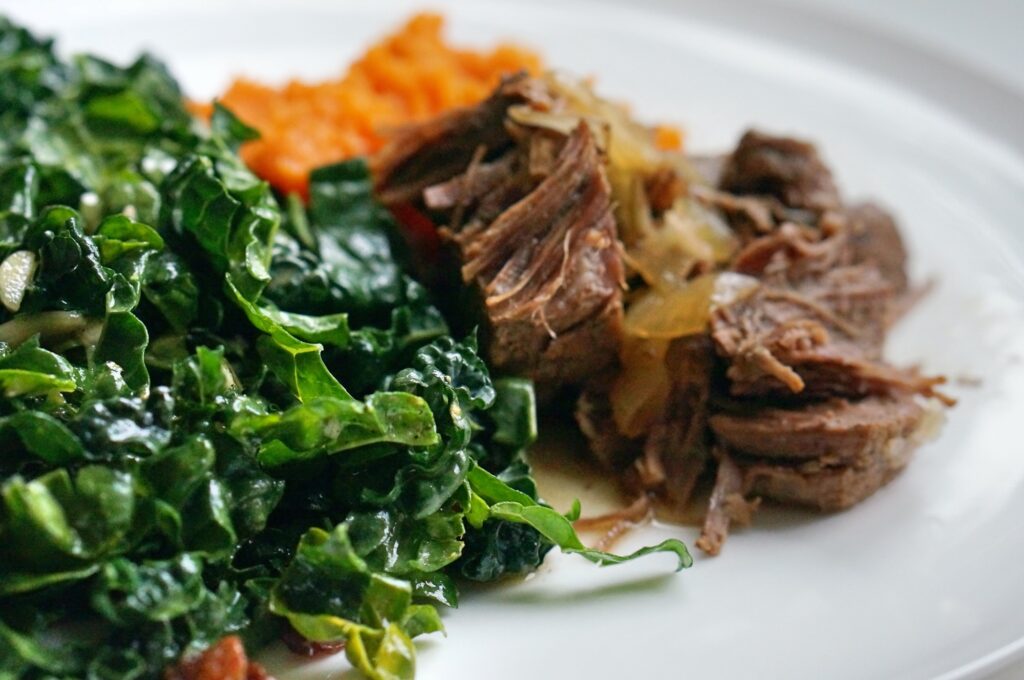 Serves: 8-10
Hands-on time: 20 minutes
Total Time: 1 hour, 20 minutes (includes Instant Pot coming up to pressure)
Ingredients:
4 lbs 100% Grassfed beef chuck roast
1 tbsp. Extra virgin olive oil
¼ c. aged balsamic vinegar (the kind that's thick and syrupy, but not artificially so!)
½ c. Beef bone broth
2 small/1 large red onion, sliced
2 sprigs of rosemary, de-stemmed and roughly chopped
1 tsp. Arrowroot powder
Salt and pepper
Directions:
Cut chuck roast into large pieces and salt and pepper generously. Set instant pot to saute, add oil, and brown beef on all sides – a couple minutes per side. Add balsamic vinegar, bone broth, onion, and rosemary to the pot and set to HIGH for 45 minutes. Allow pressure to release naturally for about 10 minutes, then do a manual release. Remove beef and set aside (in a warm oven, perhaps). Take ½ c. of the liquid from the pot, whisking in the arrowroot powder to make a slurry. Add slurry back into the pot with remaining liquid, and set to saute. Let this cook down until slightly thickened, about 5 minutes. Let liquid settle and skim the fat off the top. Drizzle sauce on top of beef and plate!