Pronounced his "favorite dinner of all time" by my husband, this tomato sauce is far and away the sweetest, most flavorful sauce you will make. With the whole tomatoes hand-mashed, it has a rustic feel to it that you don't get with most tomato sauces. The addition of fresh basil lends brightness, while the parmesan adds creaminess and depth of flavor. So I hope you'll go out to your garden, farmers market, or local store, pick up some cherry tomatoes and make this soon!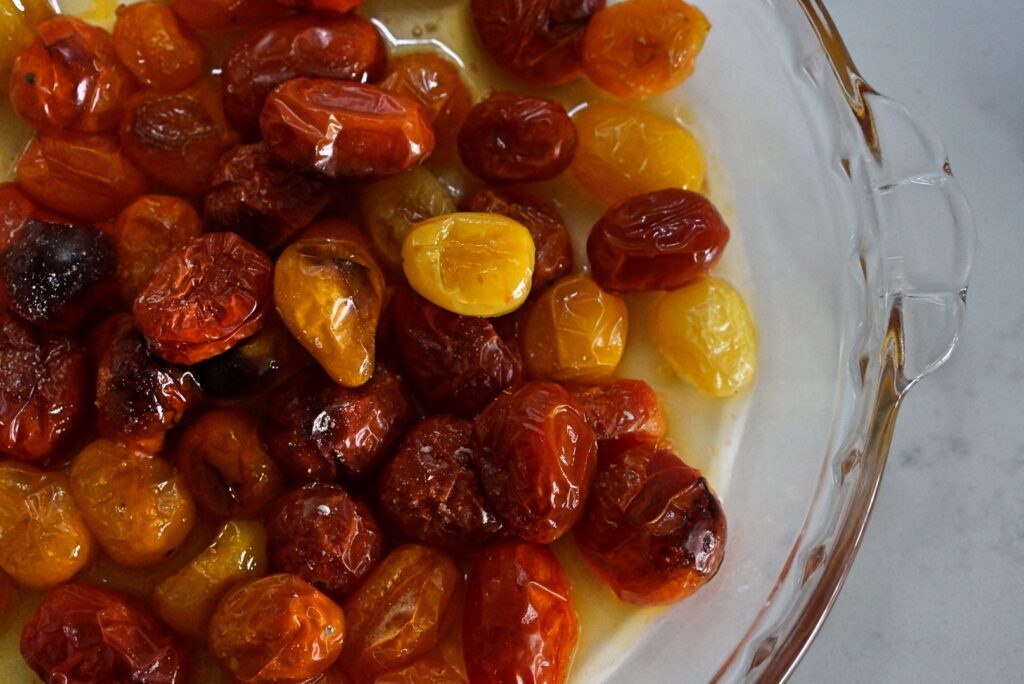 In the mix:
2 lbs cherry tomatoes (or other small variety)
2 tbls olive oil + 2 tbsp. for roasting
1/2 cup packed basil, thinly sliced
1/4 c. parmesan (omit for dairy-free)
1 tsp. red chili flakes
Instructions:
Preheat oven to 400 degrees. Line two baking sheets with parchment paper. Pour cherry tomatoes on sheets in a single layer. Don't allow them to overlap! Space allows them to caramelize and brown, which maximizes the flavor. Drizzle with 2 tbsp. olive oil and a bit of salt. Roast for 40 minutes or until browned and wrinkly, and juices begin to thicken. I suggest checking them at 25 minutes, and stirring if the tomatoes on the edges are getting more done. Remove from oven and transfer to a flat-bottomed dish (a 9×9 square baking dish works well). Use a potato masher to smash the tomato mixture to desired consistency. Stir in olive oil, basil, parmesan, and red chili flakes. Taste and add salt as needed. Serve over pasta, zoodles, spaghetti squash, halibut, or as a topping for gluten-free crackers. Or, simply eat by the spoonful.